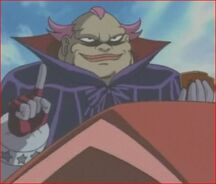 The Gay Clown was seen in scary movie 2 and raped by one of the Marlon brothers.
"Gay clown" tried to rape Yugi in his bed but Yugi turned into Yami and Yami wrapped his dick around him and showed him his "Little Baloon Animal" it shocked the Clown and he was never seen again
Appearances:
Scary Movie 2 Yugi's bed
Ad blocker interference detected!
Wikia is a free-to-use site that makes money from advertising. We have a modified experience for viewers using ad blockers

Wikia is not accessible if you've made further modifications. Remove the custom ad blocker rule(s) and the page will load as expected.