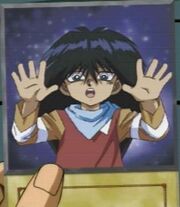 Mokuba is the younger brother of Seto Kaiba and the long lost son of Raditz, he's not potty trained according to Kaiba and still wears diapers at age 8, damn that's too old.
Mokuba Kaiba

First Name

Mokuba

Last Name

Kaiba

Debut

Episode 1: Pilot

Last Appearance

Episode 61: Muerte Pinata

Voiced by

Little Kuriboh, the lonely fat faggot

Designation

KaibaCorp Representitive

Skills

Getting A boner, Getting Laid

Relatives
Ad blocker interference detected!
Wikia is a free-to-use site that makes money from advertising. We have a modified experience for viewers using ad blockers

Wikia is not accessible if you've made further modifications. Remove the custom ad blocker rule(s) and the page will load as expected.