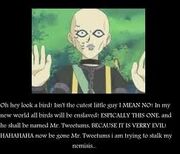 Mr. Tweetums is the supposed pet of Marik. However, some point during the series, Bakura burys him under Mariks "Tree House"(Cactus House) (it should be noted Bakura did not kill him, according to Little Kuriboh) Marik comes under the ownership of Mr. Tweetums whilst using his "Mime Steve" minion. Once finding Mr. Tweetums, Marik (Steve) proceeds to say this- Oh hey look a bird! Isn't he just the cutest little guy..uh i mean NO, IN MY NEW WORLD ALL BIRDS SHALL BE ENSLAVED! Especially this one.. and i shall call him Mr. Tweetums, because it is very evil! Bwahahaha, now begone Mr. Tweetums I am trying to stalk my nemesis! (the nemesis being Yugi)
Ad blocker interference detected!
Wikia is a free-to-use site that makes money from advertising. We have a modified experience for viewers using ad blockers

Wikia is not accessible if you've made further modifications. Remove the custom ad blocker rule(s) and the page will load as expected.